Samoa Joe, Paul Heyman Featured in New WWE Romance Novel
WILKES BARRE, PA – Samoa Joe and Paul Heyman have been chosen to grace the cover of a new romance novel that WWE is planning as part of its new product initiative for 2017.
The idea of a new pro wrestling romance novel has been in the works for months, but it was not until the June 5 edition of WWE Monday Night Raw that the company decided whom the first characters would be. Not only were Samoa Joe and Paul Heyman chosen to be the first two main characters, they were also selected to be on the front cover.
"I produced the segment in which Samoa Joe whispered into Paul Heyman's ear following their in-ring promo regarding Brock Lesnar," said Kevin Dunne, who heads WWE's production. "Their natural romantic chemistry was obvious to anyone watching, and it was a no-brainer to make these two become lovers in our first romance novel."
In the segment, Samoa Joe was actually threatening Paul Heyman with physical harm, with the idea Heyman would then tell Brock Lesnar what it felt like in order to theoretically scare him before Joe and Lesnar face off in a few weeks.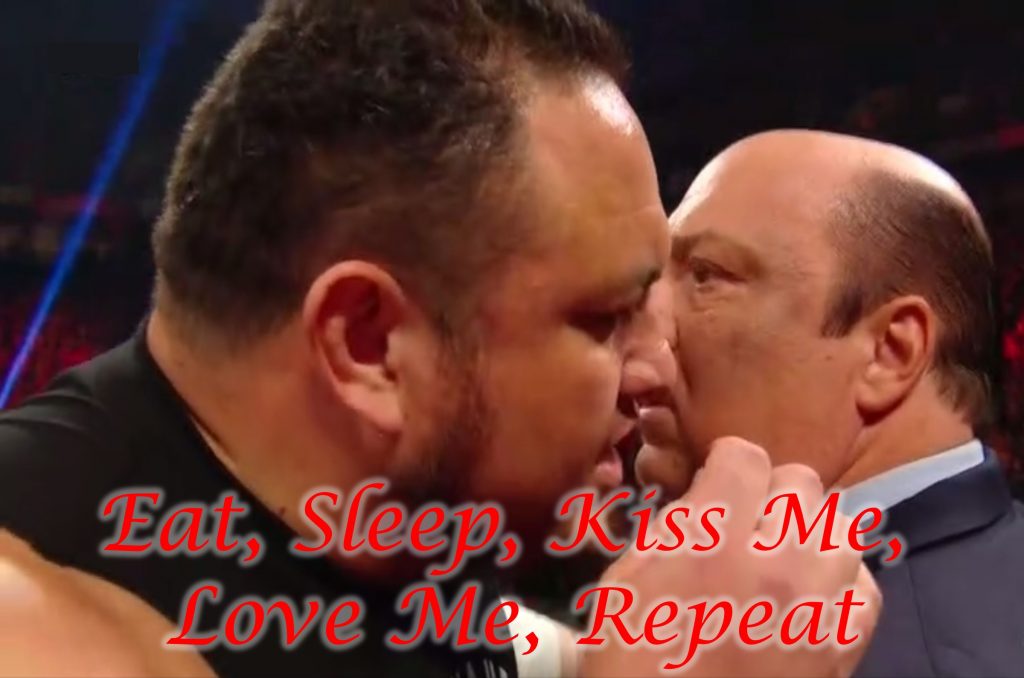 The angle went over very strongly, primarily because no microphone was used, which made it come across more real and unique than most traditional wrestling angles.
"If you take the words away, Samoa Joe and Paul Heyman actually look like lovers about to kiss," continued Dunne. "I thought, 'Wait a minute, this might be a great idea for that new romance novel Vince is planning.' So I told Vince and he LOVED the idea."
Indeed, WWE CEO Vince McMahon greenlit the idea, and said he wants to go all the way with the storyline in the romance novel.
"This is a GREAT idea!" howled McMahon at a private press conference. "There are all SORTS of possibilities with this storyline! We could have Samoa Joe and Paul Heyman become star crossed lovers. We could have Brock Lesnar be jealous that Joe is taking up all of Paul E's attention. We could have Paul E's real-life wife file for divorce once she discovers the affair. We could have a nasty custody battle for Paul E's children. We could involve Brock's wife Sable. We could even bring back CM Punk in the book and reveal him as Paul E's former lover!"

The romance novel's title, tentatively called "Eat, Sleep, Kiss Me, Love Me, Repeat," is set to crush social barriers and stigmas that have previously been taboo for WWE.
In addition to the obvious homosexual storyline, the new romance novel would address the issue of interracial relationships head on.
"We could tackle TWO hot button issues at once!" shouted McMahon with a huge smile on his face. "Here's this big, tough beast of a man. And not only would he be gay, he's also SAMOAN! And he's having an affair with a JEWISH man! It's BRILLIANT!" continued Vince in his distinct gravelly voice.
Neither Samoa Joe nor Paul Heyman seemed thrilled with the idea when reached for comment. Unfortunately for them, they have little say in the matter. Contractually WWE can create any storylines they wish, especially in a fictitious setting in which neither Heyman nor Joe would be forced to actually act out the storyline.
"Not crazy about it, I can't lie," said Samoa Joe. "I'm an ass kicker, not an ass licker. I spent 20 years building my reputation and persona in pro wrestling, and I finally get my chance on the big stage in WWE. And they put out a girlie romance novel with me on the cover as Paul Heyman's gay lover. It's counter-productive."

Heyman seemed more concerned about the idea of breaking kayfabe.
"I'm not against a homosexual storyline and romance novel per se," said Paul Heyman with his usual over-enunciation. "What I'm against is two conflicting storylines going on at the same time. Here you've got BROCK LESNAR and Samoa Joe killing each other on TV, with me cheering on Brock. Then in this book, Joe and I are secret lovers. It will only serve to confuse the audience."
HHH, who will oversee production of the new romance novel, dismissed their concerns.
"Joe or Paul shouldn't worry about that," said HHH. "The novel will take about six months to write and publish. It'll come out in December, just in time for the Christmas holiday shopping season. By that time, Samoa Joe will have long been buried and squashed by Brock Lesnar. Their feud and match will be a distant memory by that point. Look at all the guys I squashed when I was champion; nobody remembers them now."