Kurt Angle Reveals Bad News Brown as Jason Jordan's Mother
BIRMINGHAM, AL – Bad News Brown has been revealed as Jason Jordan's mother, according to Kurt Angle in a shocking announcement he made prior to tonight's SmackDown taping in Birmingham, AL.
WWE Raw General Manager Kurt Angle revealed last night that Jason Jordan is his son from a relationship he had in college. The announcement, which has been built up for weeks on Raw, sent shock waves within the pro wrestling community.
Angle didn't reveal who the mother was until tonight, and some say this news is even more shocking.
Allen Coage wrestled for the WWF as Bad News Brown from 1988 to 1990, although he had worked all over the world as Bad News Allen prior to that in Canada, Japan, and Mexico. Jason Jordan was born in September of 1988, meaning he would've been conceived just prior to Brown's WWF start date in February of that year. Angle would have just started his Freshman year at Clarion University of Pennsylvania.
"Bad News Brown, or 'Allen' as I called him, was an Olympian," said Angle in his announcement. "I was an aspiring Olympian, so I looked up to him as a mentor. He helped coach me in some aspects of my judo game; one thing led to another and soon Allen was pregnant with my child. He then started with the WWF, and so he never told me."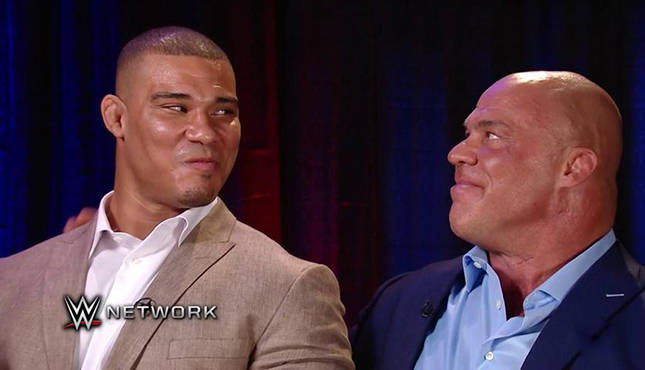 Indeed, Bad News Brown won a bronze medal in the 1976 Olympics, representing the USA in judo. Angle was one of the top amateur wrestlers in the country coming out of high school, and with Olympic dreams of his own, he recruited the help of Brown to coach him both in judo, and more specifically, how to train for the Olympics and adjust to the stringent training required to make it to the elite level.
Bad News Brown had always been a good worker in excellent shape, however he had developed something of a 'beer belly' in the WWF. We now know this 'beer belly' was simply the presence of Jason Jordan growing inside his stomach.
"It ALL makes sense now!" said Bruce Prichard, co-host of the Something to Wrestle podcast. "Bad News had gained a little weight working for us in the WWF, and that's why Vince McMahon never pushed him to the main events despite his talent and athletic ability. Little did we know that Bad News was actually PREGNANT. With Kurt Angle's child!"
It is believed Brown's secret childbirth in late 1988 was the impetus for the infamous episode of the Cosby Show in 1989 in which Bill Cosby's character dreams of giving birth. At the time, no television show had ever touched the subject of male childbirth (It's not known if Brown and Angle's affair spawned another late 80s sitcom hit, My Two Dads).
Bad News Brown passed away in 2007, and his family kept the secret for 10 years. When Kurt Angle said "I love you" in last week's episode of Raw prior to the reveal, he was most likely speaking to members of Brown's family who had given Angle permission to go public with the news.
Angle maintains he didn't know Jordan was his son until he was told weeks ago by the family of Bad News Brown. A representative for the Brown family stated they first went through Corey Graves, since Graves had roots in NXT, where Jordan first made a name for himself as part of American Alpha. That would explain the involvement of Graves in the angle since the very beginning.
"I'm too young to have seen Bad News Brown wrestle in the WWF, but man, I've heard the stories!" said Gable in a phone interview. "He was a bad motherf*cker, and Jordan should feel blessed that he has two badass parents. I mean, Bad News was the only man in history who backed down Andre the Giant. Angle won an Olympic gold medal. You can't ask for better genes than that."