Dusty Rhodes Hired as Sex Slave by McMahons
STAMFORD, CT — Former professional wrestler Dusty Rhodes has been hired by World Wrestling Entertainment (WWE) as a male escort for members of WWE's chief staff, including both Linda and Stephanie McMahon.
Rhodes was brought into WWE's headquarters in Stamford late last week for a weekend of undisclosed activities, and sources confirmed he was offered a contract which will extend his escort services for at least the remainder of the year.
While terms of the contract have not been released, company insiders have said that the duties Rhodes was hired for include, "Sexual acts, kinky photographs, videotaped bedroom romps, and nights out on the town with several female members of our management staff."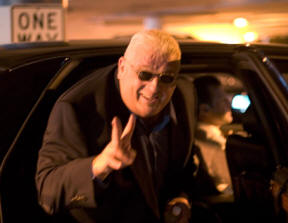 Rhodes, who worked for WWE from 1989-1990, is coming off a highly publicized firing from TNA, both as its booker and on-air performer.
He has floated around the idea of working for WWE in a creative capacity, but his relations thus far with the company are believed to be nothing more than sexual.
"Stephanie and Linda in particular are both overjoyed at the thought of Dusty penetrating them," said Kevin Dunn, an executive with WWE.
"We've also had interest from Shane McMahon's wife, Marissa, along with former WWE lawyer Laura Brevetti. All the new interns want a piece of Rhodes as well. The effect this man has on women is stunning."
In 2000, Neilsen ratings in fact showed that Rhodes was outdrawing such male studs as Buff Bagwell and Lex Luger when it came to the female demographics.
A segment on WCW Monday Nitro that involved Rhodes was often responsible for a "30-40% jump in female viewing patterns," said a Neilsen spokesman. "It was uncanny."
As TNA booker, Rhodes became the object of sexual desire from two of TNA's hottest divas, Traci Brooks and Trinity. Both women, along with the wrestlers they managed, feuded over the right to sleep with Rhodes. Rhodes also has a history of working with women in wrestling, including Baby Doll in the NWA, and later Sapphire in WWE. Backstage, he has been known to have his way with several "ring rats," as they are called, often two to three at a time. In many circles, his bedroom conquests are legendary.
While some have questioned why the McMahon women would instigate romantic relationships with the approval of their husbands, Dunn insisted that everything was consensual.
"A few weeks back, it became public that HHH cheated on Stephanie with himself," explained Dunn, alluding to a story that first appeared on The Armpit in June. "So he's okay with it. As for Vince, he has a long history of adultery. This is what Linda refers to as 'her receipt' for all that stuff in the 80s."

In addition to revenge, Linda admitted that her sexual attraction to Rhodes dates back two decades.
"When Vince and I got married and we tried expanding the company, Rhodes was a key adversary when he was NWA booker," said Linda, referring to the wrestling war of the 1980s.
"My loyalty was with Vince, but something about Dusty turned me on. His desire to beat the WWF, his determination to keep wrestling alive in the South, and his hot, sweaty, pig-like body made me secretly fantasize about him ever since Starrcade '85."
Plus, she said, Dusty was the complete anti-thesis of Vince.
"Vince is the prototypical rich, successful New Yorker who dressed nicely and won me over with his ambition. But sometimes I just wanted a rough roll in the hay with a real down n' dirty cowboy, and Dusty was as dirty as they come. I wanted to buck like a bronco and make him slap my ass, and now I can. Dusty's still a blue-collar guy, and now my fantasy can finally come true."
With Stephanie, she considers it an honor to copulate with Rhodes.
"Oh my God, my husband is such a big fan of Dusty," she said, referring to HHH and his love for classic NWA. "I know that if he could choose one man to sleep with his wife, he'd choose Dusty. Plus, I need to lose weight, and not only will Dusty flatten me like a pancake, but I'll lose 10 pounds from vomiting at his gross obesity alone."
Rhodes is no stranger to bedding women in power. It is believed his sexual prowess won over TNA owner Dixie Carter, who later hired him as TNA's booker.

With Rhodes no longer tied to that job, he has begun generating business by performing as a male escort throughout the Southeast and Northeast.
"Before, I never had time to sleep with my fans to the degree I am now," said Rhodes.
"I was always busy booking, writing, wrestling, and headlining sold out crowd that chanted Dusty's name," he continued, referring to himself in the third person.
"After I quit TNA… and trust me I QUIT, I wasn't fired… I discovered I had the time to catch up on years past. I'm in my sexual prime, so let's do it baby."
After he finishes with the McMahon women, Rhodes plans on sexually conquering other women in power, including Oprah Winfrey, eBay CEO Meg Whitman, New York Senator Hillary Clinton, Secretary of State Condoleezza Rice, former Attorney General Janet Reno, prosecuting attorney Marcia Clark, and Fox News anchor Greta Van Susteren.