Christian Wrestlers Revolt
TAMPA, FL — Professional wrestling's most well known born again Christians have suddenly revolted, their publicist announced today at a gathering in Tampa, reversing a trend among retired wrestling stars that began in the 1990s.
Former headliners such as Ted DiBiase, Nikita Koloff, Jake Roberts, Marty Jannetty, Road Warrior Animal, Marc Mero, Sable, and Tully Blanchard had all turned to Jesus Christ in recent years, crediting Him as saving them from former lives filled with sex and drugs.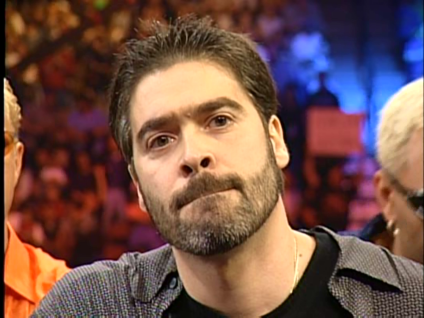 While many of them had built up reputations as heavy partiers, most who are close to the stars have readily admitted that they indeed had changed their ways after discovering religion.
Gone were the crazy parties and stories of yesteryear, and in their places were church sermons, speeches at schools, and fund-raising volunteer events.
But all that has changed, said their publicist, Vince Russo.
"I'm hereby announcing today, on behalf of all my clients, that religion is gone from their lives forever," announced Russo before a crowd of several hundred.
"We're all going to Hell, and we're all going together. From now on, it's back to full-scale 1980s debauchery. Let's party folks!"
Stunned, family members spent the morning openly weeping and trying to convince the wrestlers to change their minds.
"How could he do this!!" shrieked DiBiase's wife. "He was so dedicated, so supportive…. I don't know what happened that would make him change??"
Credit the wrestling business, said industry observer Dave Meltzer, who publishes the weekly Wrestling Observer Newsletter.
"Ted just took a job with WWE as a writer/consultant. That could be one reason. Just one taste of the old life probably made him crave what he had been missing all these years."
Meltzer has followed DiBiase's career since the late 1970s, just before DiBiase got a big break working for Bill Watt's Mid-South promotion.

Also to blame, says Meltzer, is the recent proliferation of nostalgia shows that have lured many of wrestling's most notorious retirees into the spotlight again.
"(The nostalgia shows) are drawing, drawing well. But with that comes a risk, because these former party guys are now around that environment again. It's a recipe for disaster. I can't say I'm surprised, I really can't."
"Religion schmeligion," proclaimed DiBiase.
"I've been born again for years now, and it never really did me any good. So I went back to WWE. It was insane. Parties, groupies, steroids… everything that I missed, and more. Now THIS is living! You could say I'm born AGAIN, but in a different way."
As a young child asked DiBiase for a donation to the local church, he dropped a $100 bill on the floor. As the child went to pick it up, DiBiase kicked the child in the stomach, and took back the money.
"Hahahahahahahahahaha!!!!!" exclaimed DiBiase in his signature, sinister "Million Dollar Man" laugh. "Everybody has a price, and you WILL be bought! Hahahahahahahaha!!"
Steve Borden, who wrestled as Sting, decried the day's events. "I'm horrified, that's all I can say," said the former WCW star. "Now I'm the only guy left who believes in God. I thought these were my brothers in life. I thought wrong."
Borden then received a wedgie from Nikita Koloff, his former tag team partner.
"I feel like a new man!" cried Koloff. "I got so sick of it all, especially Sting. 'God this, God that…' Jesus Sting, shut the f*ck up! Let's screw hookers!"

Jake Roberts and Marty Jannetty returned to WWE recently weeks ago for an edition of Monday Night RAW.
The temptation was too much, they said, and before long, they were back to their old selves.
"Fck. That Randy Orton, he gets more psy than anyone I've ever seen. Enough of this God sht, gimme some of that!" yelled Roberts, his distinct voice somewhat shot from years of hard living.
Jannetty, who had only recently turned to religion, turned right back as soon as he came back to WWE.
"It was 1988 all over again, brother," said the cherubic-faced Rocker.
"Me and Shawn (Michaels, former tag team partner), we was partying like old times, man. Shawn ain't all there yet. He still wants to live with God, but me an' Jake are trying to pull him back in to our clique. He'll break, eventually. They all do. Hell, we did."
Road Warrior Animal, known as a powerhouse in the 1980s as one-half of the famous tag team with partner Hawk, attended a tryout last week for a spot as WWE television announcer.
His brother, John Laurinaitis, is a major player within WWE and helped land him the gig.
"All it took was for me to step through the door, and I felt like it was 1985, not 2005," quipped Animal.

"I wanted to put my hands on everything illegal in sight… pills, needles, breasts, whatever. This business is such an addiction. I'm much, much happier as an evil-doer than when I was with Christ. I've turned over a new leaf, and I'm never going back."
Rena Mero, who used the name Sable while a main attraction with WWE in the late 1990s, had long been a proponent of religion.
She sparked controversy in 1999 when she posed for Playboy, setting a trend that has continued to this day with a healthy relationship between the adult magazine and WWE. Mero returned to WWE in 2003.
"Since my return to wrestling, my marriage to Marc (known as Johnny B. Badd) has crumbled," said Mero with a subdued expression.
"My life hit the dumps. Then I met this tall, hulking, beefy, beautiful man named Brock Lesnar. I licked him up and down, and on our first date, we made love on the church steps. It was so sacrilegious, yet so….. tantalizing. I never got that feeling with God."
Mero was then fondled by Tully Blanchard, and the two then jumped in Lesnar's jeep and steamed up the windows. Lesnar was nearby, nodding his head in approval, and then jumped in the jeep as well with Randy Savage's former girlfriend, nude dancer Gorgeous George.